"The historical society of Oak Park and River Forest has engaged the History Singers of Forest Park for several programs and has been very pleased with their presentations. Most recently we engaged them in October 2010 for a program called "Mark Twain's Music Box." Their thorough and careful research of the era resulted in an entertaining, enjoyable, and educational program of period music interspersed with relevant quotes from Mark Twain, a concert that was thoroughly enjoyed by our audience...
The Historical Society believes that history can be relevant and educational without being boring and dry. The History Singers share that point of view with their entertaining and informative musical shows."
--Peggy Sinko, Vice President for programs, the Historical Society for Oak Park and River Forest.
"I just wanted to thank you for the wonderful program you put on for the Allied Orders. Everyone is still talking about it! They enjoyed being able to sing along when you played their favorite Civil War songs, and they enjoyed the historical backgrounds you gave, plus the beautiful sheet music covers you brought. Your presentation and friendliness impressed everyone and it was a joy to have you both. I hope we will be able to bring you back to New York state in the near future."
--Gloria Fisher, Chairman of the Entertainment Committee for the Sons of the Union Veterans of the Civil War, New York.




​


​"As a founder of Pillars of Honor, I had the pleasure of being referred to them as possible entertainment for our Pillars programs. Kathy and John willingly found their way to the Pillars office and gave us a little taste of what would become a long time joint venture and friendship as they performed for Pillars through its last event. They are talented, versatile, patriotic, and engaging. truly interested in those they are performing for. So if you haven't heard them, find them. And if you've heard them before, find them again!"
--Suzanne Stanits, former President, Pillars of Honor

"It is my great pleasure to recommend Kathryn Atwood's presentation, 'The Setting of American Song.' Ms. Atwood has researched the history of American music with great passion. Her truly magnificent voice goes through an array of songs that provide a wonderful experience designed to enrich, enlighten, and entertain the audience."
--Laura Manning, ASCAP singer/songwriter whose work has been published, recorded, and produced on the stage.


"Thank you so much for your performance of 'The Christmas Carols of Old England' here at the Park Ridge Public Library. Everyone who attended enjoyed your informative and entertaining performance. Kathryn, your voice is exceptional and John's guitar accompaniment was excellent. I'll be sure to tell the other programming librarians in the area about our positive experience with you."
--Gena Zelenka, former adult programming librarian, Park Ridge Public Library.

"I was fortunate enough to have Kathryn and John Atwood, the History Singers, perform at the Tinley Park Library. They are wonderful performers, gifted singers, and talented artists. Our patrons loved the show and I received many compliments from the audience. Kathryn and John and consummate professionals and it is a joy to work with them. Do not hesitate to book them for your venue. They will provide an afternoon of beautiful vocals, music education, and overall entertainment that your audience will love."
​--Beth Liput, former adult programmer, Tinley Park Public Library

"The Clarendon Hills Historical Society was more than entertained by the program you presented to us. We were educated. You very cleverly are able to teach history through entertainment by intertwining visuals, instrumentals, and songs of the past resulting in a dynamic effect. As modern-day troubadours, armed with a vast repertoire, you have the unique ability to serenade your audiences through our nation's history from the Pilgrim's struggle through the cowboy era. That's a lot of history in 60 minutes."(Settings of American Song).
--Jan Cummings, former vice president, Clarendon Hills Historical Society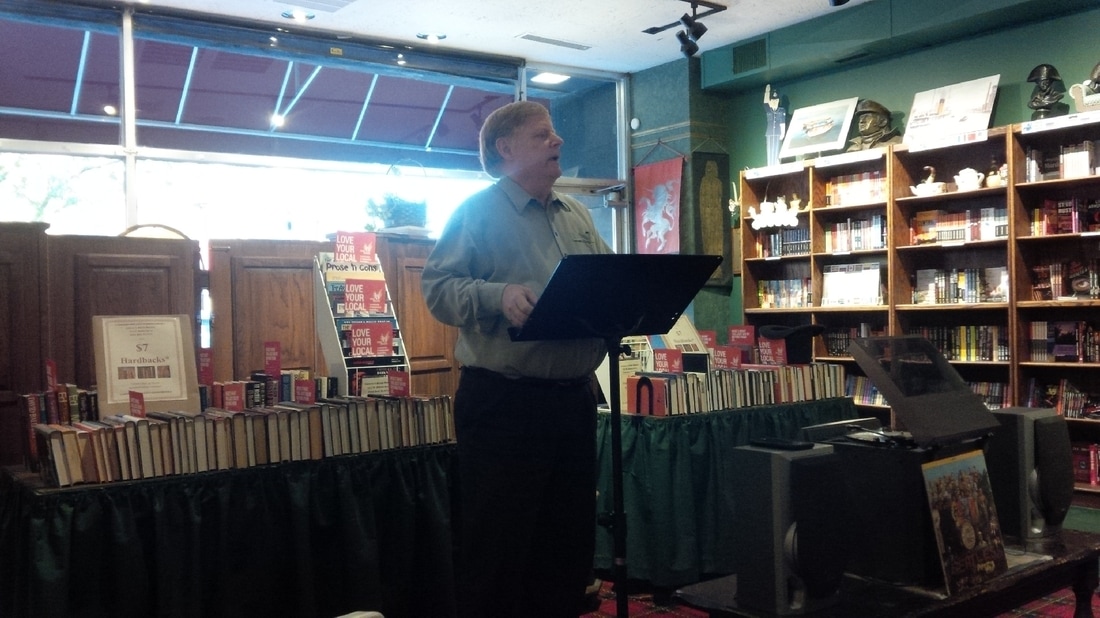 "Thursday,June 1, was C & S commemoration of the 50th anniversary of Sgt.Peppers Lonely Hearts Club Band release.. .and a great time was had by all in our full
house! John Atwood did an in depth and humorous presentation on Sgt.Pepper's 50th Anniversary, for every song of both music and lyrics, to a rapt audience, including Val Camiletti [of Val's halla Records and formerly of Capital Records]. We ran out of time for more than a couple q/a, but members stayed to compare insights & share pleasure, while enjoying light refreshments. They showed their appreciation, in a very gratifying way, when we 'passed the hat.'"
--Augie Alesky, owner, Centuries & Sleuths bookstore, Forest Park, IL